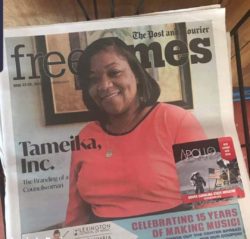 A few years ago, I joined a Mastermind Program for Speakers, Authors and Coaches. I am a firm believer in the saying "iron sharpen iron" and I wanted to be around people who were doing what I wanted to do.
When I first got in the group, our coach used to tell us that we were our brand. I knew what she meant but I wasn't quite sure how to make that statement a reality. As a business major in undergrad, I took some marketing courses and I knew a little bit about branding but everything I knew was in the context of product brands. I did not have any expertise in personal branding, and even less experience of trying to take everything I had swirling around inside of me and communicate it in a nice succinct outward display.
Personal branding experts will tell you that a personal brand is the total experience of the relationship that others have with you. And in my case, the brand of Tameika Isaac Devine is a wife, mother, attorney, elected official, speaker, coach and entrepreneur. I wear many hats and I have always known that it was important but knowing how to project that outward brand was not always very clear.
Over the last couple of years, I have worked to gain clarity on how I communicate the brand of Tameika Isaac Devine and to make sure no matter who I am interacting with that they were clear on who Tameika Isaac Devine really is. But sometimes when you're working so hard on stuff and you are on the inside looking out, you don't always know how what is being communicated is perceived on the outside. I was elated recently while I was walking down Main Street on my way to Good Life Cafe to grab an energy bowl when a local reporter stopped me and asked if I would be willing to sit down with him and talk to him about the evolution of the Tameika Isaac Devine brand.
Check out the article here (It is really good if I do say so myself)
Sometimes when we are working hard and not sure we are making any progress …then we get some confirmation that we are. That validation can be a great motivation to keep going. So today in addition to sharing this great article about the Branding of a Councilwoman (LOL), I want to encourage you to keep doing what you are doing. Keep showing up every day. You never know who is watching!