Recently I was getting ready for a brand photo shoot when I ran to my stylist's shop to grab some items to wear. When I walked in she immediately noticed that I was not wearing body shaper. She questioned me as to why I was not wearing a body shaper like she consistently urges me to. I explained to her that of course I planned to wear a shaper for the photo shoot but on this day I was doing a lot of running around and since it was going to be such a long day, I chose not to wear my shaper.
I know I need a body shaper. I am 46 years old and have had 4 C-sections and apparently according to the doctors, during my last pregnancy my abdominal wall stretched so much that my tummy will never appear flat unless I get plastic surgery. Therefore, a body shaper is the only thing that will keep me from looking like I am 3 months pregnant on a regular basis.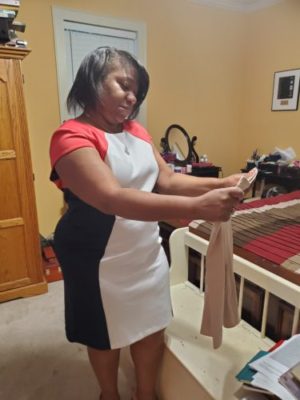 I do wear a body shaper when I am going to be out in the front of a lot of people or it is a special occasion but to be honest I do not wear a body shaper every day because I don't want to be uncomfortable (and quite honestly, it really is a hassle to take off when you have to use the ladies' room). My stylist proceeded to let me now that I have a brand and I always need to look my best and in her opinion, my best includes wearing a body shaper every day so that I don't look like I am in my 1st trimester on a daily basis.
I received what she said in the loving and supportive spirit she meant it. Having women in your circle who love you enough to be brutally honest to make sure you are always showing up as your best self is important (see my blog about who is in your circle).
I still have a love/hate relationship with body shapers. I love the way they pull me in and tighten the places that babies, gravity and age have not been so kind to. And I hate the uncomfortableness of them (even the higher end ones that are supposed to be comfortable but really are not).
My body shaper relationship has confirmed a valuable point that I make all the time. With success come sacrifice. Anything worth having requires you to do some things you don't want to do. Transformation sometimes is uncomfortable but the end result is worth it.
I still do not wear a body shaper every day. But I do wear it more and often times when I really don't want to. When I put it on, I just suck it up (literally) and tell myself "You got to do what you got to do to get what you want to get".
I would love to hear what things you do that you don't like in the name of "looking your best". Share with me some of your stories below