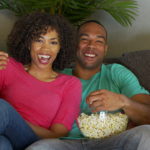 It's Valentine's Day.
Many couples will send their "Boo" candy and flowers.  Some people will buy jewelry or cute stuffed animals.  Some will go out to expensive dinners.  All of these are great ways to celebrate but you don't have to spend a lot of money or go all out to have a great Valentine's Day.
I for one enjoy a quiet night at home, cuddling in front of the tv watching a movie.  Recently, I googled top date night movies and I was amazing that many of the list did not include African American movies.  One list was a list of 50 movies and even included animated films like Lady & The Tramp and Cinderella, but did not have 1 African American film listed.  I love seeing puppies kiss while eating spaghetti too, but come on, there are some amazing African American films out there that can turn a regular night in front of the tv into a romantic evening.
Here are some of my favorite date night movies:
Love Jones
This is absolutely my favorite movie of all time.  I can probably recite the entire movie to you if I try.  This movie starring Larenz Tate and Nia Long explores the on again off again relationship between a poet and photographer who both seem to have problems admitting how much they feel for one another.  It is cute, funny and is definitely a must see.
Southside With You
This movies chronicles the first date of Barack and Michelle Obama in the summer of 1989 in the southside of Chicago.
Love and Basketball
The film tells the story of 2 ballers who fall in love with basketball and each other.
Best Man (and Best Man Holiday)
College friends come together for their friend's wedding and secrets are revealed which test their friendship and love for one another.
Why Did I Get Married
This Tyler Perry film follows the relationships of 4 married couples.  It has some classic Tyler Perry humor but also explores some deep issues such as infidelity, loss and trust.  At the end of the day, it shows how marriage is work and requires a true commitment to making it work, even through difficult times.
Just Wright
Queen Latifa plays a physical therapist who falls for her basketball player patient while she is helping him recover from a career threatening injury. Brown Sugar
How Stella Got Her Groove Back
This May-December romance between Stella and Winston shows us that love is bigger than age or career differences.
The Brothers
Four friends deal with love, fidelity and commitment issues as one of them decides to settle down and get married.
The Wood
In this movie childhood friends help their friend who gets cold feet right before his wedding, as they reminisce about growing up and past relationships.
I would love to hear some of your favorites so I can add to my date night play list.  Please comment below and share with me your favorites and why they are a must see,