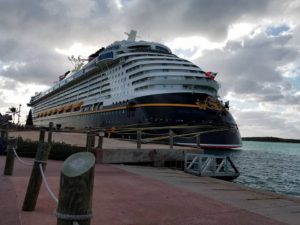 For years I have heard about Disney Cruises. I even have adult friends who go on the cruise without children. So when my husband asked me what I wanted to do for my 45th birthday, I told him I wanted to go on a Disney cruise. It wasn't difficult for him to believe because he knows I love all things Disney, but he was surprised that I did not select something more "adult". I told him, Disney is a great brand that prides itself on providing an excellent experience no matter what age you are so I knew it would be a great birthday celebration.
Since my birthday is so close to the holidays and we didn't want to take the kids out of school for too long, we chose a 4 day 3 night excursion to the Bahamas. We were welcomed onto the ship like we were on the red carpet at the Oscars. They introduced us upon arrival and we received cheers from the crew and other guests who were already on the ship.
The cruise was filled with plenty to do. For the kids, they enjoyed meet and greets with their favorite characters, the kids club and the evening dance parties. For the parents, we enjoyed lounging by the pool, the amazing food and the spa. And for Grandma, she got to enjoy time in the adults only portion of the ship and shopping.
There was plenty to do as a family. We enjoyed the Broadway-type shows, family movie night and miniature golf.
Our wait staff was amazing and since I was celebrating a birthday, they made sure that I got the royal birthday treatment.
So when you are looking at planning your next milestone birthday or family vacation, I would strongly encourage you to check out the magic of a Disney Cruise.